CATEGORIES
METAL
STAINLESS STEEL
STONES
GRINDING WHEELS
>
PRODUCTS
>
DIAMOND DISCS
> TILE GRANITE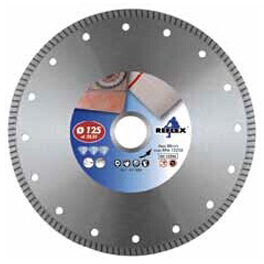 TILE GRANITE

Product Parameter
High efficiency in cutting all type of tiles. All diamond discs are meet EN standards,the MPA certificates are always updated.Good quality also very stable performance.7mm Height Segments diamond disc,common size has Dia.115mm,125mm,180mm and 230mm.This tile granite cutting discs can be used in dry or wet.Application are for tile,earthenware,sandstone.Those tile granite cutting wheels are very high performanced for all types of tiles. Professional quality,blue line products.MOQ is 500pcs per item.
Applications : Tile, earthenware, sandstone, granite, natural stone
Features : Diamond disc continuous rim Turbo High 7 mm. dry and wet cutting.
Extra thin teeth.
Advantages : very high performances for all types of tiles.



115 • 41/2
7
22,23 • 7/8
1,2
911154
125 • 5
7
22,23 • 7/8
1,2
911254
180 • 7
7
22,23/25,40/
30,00

1,9
911804
200 • 8
7
22,23/25,40/
30,00

2,1
912004