CATEGORIES
METAL
STAINLESS STEEL
STONES
GRINDING WHEELS
>
PRODUCTS
>
CUTTING WHEELS
> STAINLESS STEEL INOX
STAINLESS STEEL INOX

Product Parameter
Superior packaging and anti-counterfeiting labeling.Good hand feeling to cut and grind. Good grain uniformity without crack-like apperance.Applying to cutting metals and stainless steel.Resin bonded reinforced stainless steel cutting wheels.Stainless steel cutting discs high quality A level white alundum.high tensile resistance,shock resistance and bending strength.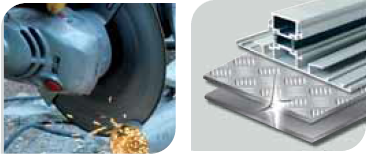 Features : Double fibreglass net reinforced resinoid bonded aluminium oxide.
Grit grade from 24/46 to 60 according to the thickness. Hardness R.
115 • 41/2
1,6 • 1/16
22,23 • 7/8
115.16.25
115 • 41/2
1,0 • 3/64
22,23 • 7/8
115.10.25
125 • 5
1,6 • 1/16
22,23 • 7/8
125.16.25
125 • 5
1,0 • 3/64
22,23 • 7/8
125.10.25
180 • 7
1,6 • 1/16
22,23 • 7/8
180.16.25
230 • 9
2,0 • 5/64
22,23 • 7/8
230.20.25