CATEGORIES
METAL
STAINLESS STEEL
STONES
GRINDING WHEELS
DIAMOND DISCS
Diamond discs are not only used to cut off materials,diamond discs but also to polish construction materials.There are laser welded diamond blades as well as cold pressed diamond cutting discs.Diamond blades are great power tool accessaries to make cut-off work more efficient.Our cutting discs have high cutting life and fast cutting speed.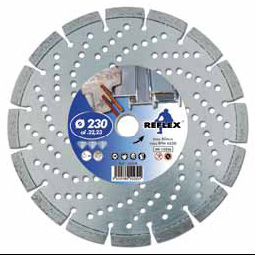 All the floor tile diamond disc manufactured according to EN standards.


Concrete cutting blades manufacture more superior and all the process more meticulous.


Construction cutting blades,excellenct cutting feeling,excellent cooling and noise reduction.

Diamond grinding cup application is for concrete, masonry and stone.


Reinforced concrete cutting wheels,we regard technology as root and quality as life.


Marble cutting disc,high efficiency in cutting all type of tiles.


Those tile cutting discs are very stable quality, and very good performance.


The tile granite cutting disc packed with color unit pack.